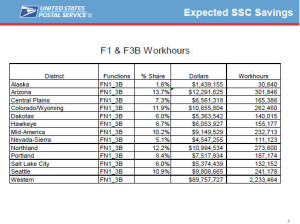 An overview of the new 24-hour mail processing plan.
Key Principles
There IS an overnight delivery standard for commercial mail
 There IS NOT an overnight delivery standard for Single Piece First Class Mail (SPFCM)
 There is an overnight delivery performance for both commercial mail and single piece first class mail
 Anticipate that 66% of current overnight delivery performance will remain under Phase 2 Network Rationalization
Letter/Flats Processing – Outgoing
 All collection mail must be worked day of entry
 Service Standards for 2D and 3D have not changed
 Realignment of surface network to secure arrival of 2 day committed mail to destinating office by 8:00am
 Revaluation of STC network
 Evaluate Fedex Contract impact
 Continuous processing of FIM mail
Letter Mail Destinating Operations
 Two Critical Entry Times for Commercial Mail
 8:00am
 Mail tendered by 8:00am destined for that plant's local delivery area requiring a primary sortation, will have an overnight delivery standard
 Noon
 Mailers who enter presorted mail, properly prepared and containerized and entered by CET as of noon, will have an overnight first class service standard for mail destinating to the local plants service area
Periodicals CETs – Under Phase II (click on pics for larger view)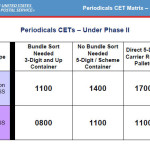 Driving Efficiency
FUTURE NETWORK – ALL PLANTS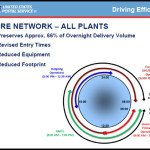 Priority Mail – No Change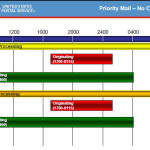 Destinating Letters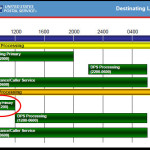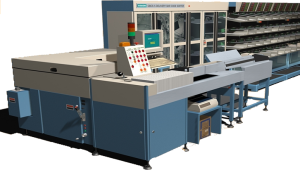 DPS Processing
 DPS to start at noon and continue until 6:00am
 Ensures some turnaround SPFC is delivered overnight
 Staging lanes critical
 Increase of first class on hand volumes
Remittance Processing
 Anticipated that delivery times for Remittance mail will improve
 Moving 2D committed volumes to 8:00am and continuous process of FIM will improve FIM process by 10-12 hours
 All turnaround FIM will have an overnight delivery performance
Destinating Flats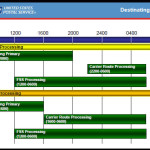 FIM/Remittance Mail Model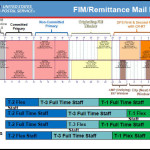 F1 Savings
PROCESSING OPERATIONS
 Operating Window Changes
 Work Equipment to Capacity
 Reduced Equipment Set, Elimination of Phase 1 DBs
 Utilize RPGs and DPS Optimization Tool
 Complement Impacts & Staffing Realignments – Use Baseline Staffing Model
F3A Savings
TRANSPORTATION
 Match new processing profile to transportation
 Optimize trips from plant to multiple stations
 Consider trailer utilization
 Eliminate early DPS runs
 Zero Base schedules to match new processing profile
F3B Savings
MAINTENANCE
 Reduced machine need; down to the machine number which gives us a machine type; each machine type has a PM value associated with it some more labor intensive than others
 Greater opportunity for Operations to compact/condense machine usage; said otherwise no reason to dirty up (use) a DB for small runs on t-2 and 3; as this will reduce our benefit or need to PM them and to provide OPMS for them
1.Example would be running LAMM whether 1st or standard mail on one machine and then use the same machine to run primary and secondary runs on instead of moving to a different machine because you have time to sweep it down later.
2. On Saturday night when you go to start 1st pass runs for Monday delivery don't run every machine (zone) just because you have the Ops staff only run them if the Monday morning volume warrants it. Every minute that machine is on we have a minimum amount of work on the equipment that must be done.
 Be smart about the machines you want to keep; they are all DB's and we should be able to make them run well i.e.… a phase 6 vs phase 2 – 5 or a DIOSS D vs B
 Stacker module increases have an impact on PM's but is minimal; increase number bins where it makes sense
 Standardize equipment types as best you can because that will help us save on part usage and storage space i.e.. an opportunity to get rid of phase 2 stacker modules that may not have been modified in the past
 Consider how you will alleviate bypass/residue/residual volumes in your smaller plants that remain open
Network Rationalization – SSC 4-Walls Initiative (PDF)