Statement on OIG report on mail processing and transportation operational changes
September 20, 2016 – The Postal Service takes issue with the audit report's content, analysis and tone, specifically the inaccurate findings that do not correctly reflect the benefits of Network Rationalization.
The Postal Service agrees with the report's conclusion that since mail service scores have significantly improved since the operating window change was made in 2015, the Postal Service should not revert back to the prior operating window and implicitly, service standards.
The OIG report's use of outdated service performance results, combined with a non-statistically valid mailing test may lead to inaccurate conclusions about performance.  In fact, since Network Rationalization was implemented, the Postal Service has not only improved mail service across the country, it has achieved record levels of service across the majority of service categories.
PostalReporter note: Here is the summary and PDF of USPS OIG Report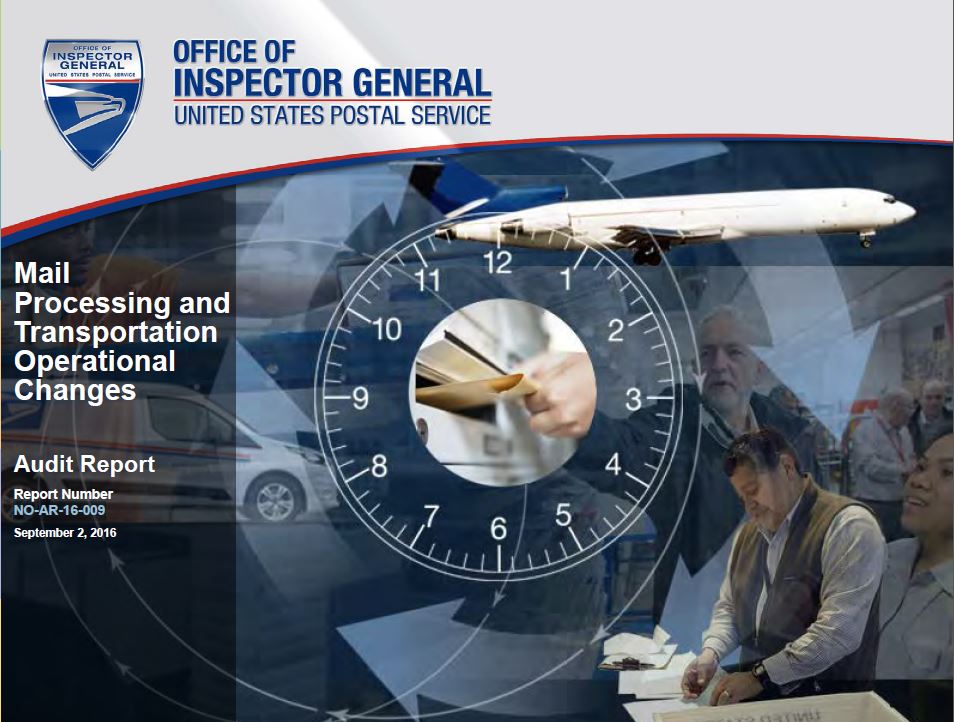 Mail Processing and Transportation Operational Changes
For the 9 months following the January 5, 2015, service standard revisions, the Postal Service experienced increased nationwide delayed mail, reduced performance scores, decreased mail processing productivity, and increased transportation costs.
For the period January through September 2015, the Postal Service reported delayed mail processing increased by almost 638 million pieces (or 51 percent) compared to the same period in fiscal year (FY) 2014. Further, the Postal Service's service standard measurements indicated that 2-day and 3-5 day First-Class Mail weekly performance scores declined by as much as 7 percent and 34 percent, respectively, compared to the same period a year earlier.
The Postal Service has taken significant steps to reduce delayed mail, notably deploying quick response teams based on Lean Six Sigma processes to determine causes and establish corrections.
Subsequently, the Postal Service reported delayed mail processing decreased by about a billion pieces (or 54 percent) for the period October 2015 through April 2016, compared to the same period in FY 2014. First-Class Mail service scores have significantly improved since the initial decline and are within about two percentage points of April 2014 service scores. Based on this improvement, we believe the Postal Service should not revert back to its prior operating window.
Although the Postal Service reported national delayed mail has been reduced significantly, it is still a problem for specific Processing and Distribution Centers serving certain urban and rural customers. In Quarters 1 and 2, FY 2016, the top 10 processing facilities with delayed mail had about 247 million pieces of delayed mail, or almost 30 percent of all delayed mail nationwide. These 10 facilities in CA, CO, IL, MD, PA, NJ, NY, and TX process mail for about 13.7 million delivery addresses.
In order to independently measure service after the OWC, we conducted a nationwide non-statistical mailing test of urban and rural areas from September through November 2015 and February through March 2016. We tested single piece First-Class Mail® letters, flats, and parcels and Priority Mail® flats and packages. Of the 2,995 pieces included in our test results, 27 percent (or 801 pieces) did not meet the service standards.
We found the increase in delayed mail and decrease in service scores was caused by three significant network and operational changes, insufficient air transportation capacity, mail arriving late at processing plants, outdated operating plans, and adverse winter weather.
In addition to service issues, the Postal Service did not achieve projected savings associated with the OWC. Management could provide support for achieving only 10 percent of the projected annual OWC savings presented to the Postal Regulatory Commission in 2011 of over $805.5 million.
The Postal Service stated there have been additional savings realized from the OWC separate from the projections presented to the Postal Regulatory Commission. The OIG validated $231 million additional savings.
However, the Postal Service exceeded its transportation budget plan by over $200 million (or 3 percent) in FY 2015. The Postal Service attributes $130.2 million of increased transportation costs to the OWC. About 1.7 billion more pieces of First-Class Mail (or 40 percent) were transported via contractor air transportation in 2015 than in the previous year due to changes in the critical entry time for this mail.
What the OIG Recommended
We recommended the vice president, Finance and Planning, re-evaluate the operational and transportation financial impacts associated with the OWC.
We recommended the vice president, Network Operations, develop and implement a nationwide strategy to improve mail processing productivity before implementing any additional nationwide operational changes or consolidations; increase air capacity to meet its critical entry times; create a nationwide system to track and report the amount, cause, and origin of mail arriving after its critical entry time; and establish a nationwide database to capture and share the Lean Six Sigma team's lessons learned. In addition, we recommended instructing management to update all operating plans to reflect the OWC and continue monitoring and reducing delayed mail processing.