USPS Offering Special Voluntary Early Retirement
Postal Employees in the targeted offices started receiving their Voluntary Early Retirement (VER) offers on November 28,2014.  The letter enclosed stated NO INCENTIVE. The Irrevocability date is January 9, 2015. The effective retirement date is  January 31, 2015. The VER was offered to postal employees who work at the POST OFFICES listed below in the Western Area and not USPS PLANTS scheduled for closure/consolidation beginning in January 2015.
(November 28, 2014)  USPS Voluntary Early  Retirement (VER) offer.  There is no incentive.

Here is the message sent out:
As a matter of general interest, HRSSC is sending special Voluntary Early Retirement (VER) opportunity letters to eligible employees in the facilities listed below. In addition, eligible employees within 50 miles of these locations will also be sent a VER letter. This VER is limited to APWU Maintenance & Clerk Craft. There is no additional monetary incentive with this VER and employees are expected to get their letters on or about Friday November 28, 2014.
HRSSC has indicated that individual annuity estimates will be sent to VER eligible employees next week. This VER is intended to allow employees an opportunity to retire if they so desire. The VER locations were selected based on sites that are currently overstaffed.
 The Postal Service has requested and been authorized a special site specific Voluntary Early Retirement (VER) for our location, and those offices within 50 miles.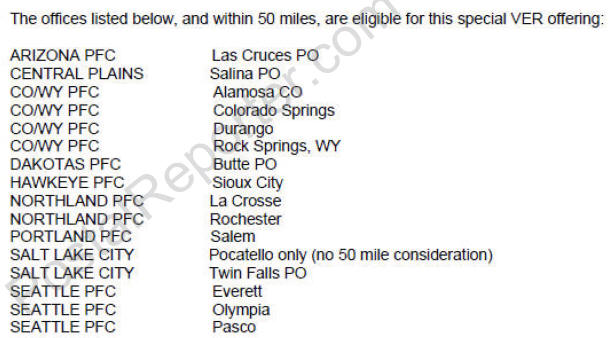 The VER is for career employees represented by APWU at certain locations. There is no additional incentive.
 To be eligible for the early retirement, you'll need to meet these requirements:
At least 50 years of age with at least 20 years of service, or any age with at least 25 years of service, and
At least five years MUST be creditable civilian service, not military service. Employees may use military service to meet the balance of service required for eligibility.
The most important thing is to make sure that your current address is on file. If eligible, USPS will use that to send you an Annuity Estimate Letter and a Retirement Kit in the mail and you can weigh your choices.
Details of VER guidelines and Frequently Asked Questions, are posted on the Workforce Connectionwebsite on LiteBlue. You may also find information on the Blue Page  at this link: VER
You'll be informed of all the other details in the days ahead, but I wanted you hear the news from me first.