USPS OIG Audit Report: Window Retail Customer Service – January 29, 2015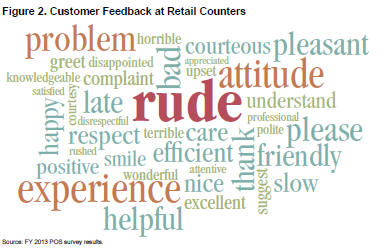 The objective of this self-initiated audit was to evaluate customer service at retail counters.
In fiscal year (FY) 2013, the retail network handled 1.7 billion transactions, a reduction of about 5.2 percent from FY 2012.
Positive customer experiences during retail counter transactions enhance the Postal Service brand and increase loyalty, revenue, and customer satisfaction. Over the course of FYs 2012–2013, the Postal Service experienced an 8.9 percent increase in negative customer feedback regarding the retail counter experience.
The Postal Service uses several tools to measure overall customer satisfaction at retail counters, including:
■■ Postal Service (PS) Form 4000-B, Employee Observation, used by local retail managers to evaluate postal sales and service associate (sales associate) performance.
■■ The Retail Customer Experience (RCE) Program, which is conducted through independently contracted customers, or mystery shoppers, at larger retail locations.
■■ Point-of-Service (POS) survey information collected when customers visit a uniform resource locator printed at the bottom of the customer receipt. The POS survey is meant to be an exclusive conduit for feedback from customers who use Post Office retail counters.
According to the National Performance Review (NPR),2 courtesy and associated behaviors such as eye contact and clear communication are critical customer satisfaction elements. The NPR report noted3 that organizations should not tolerate discourteous service. The report concluded that, of the three most important elements of customer service – timeliness, quality, and courtesy – lack of courtesy has the highest probability of causing customers to choose alternatives, regardless of the timeliness or quality of service provided.
Conclusion
Between FYs 2012 and 2013, an increasing number of customers expressed dissatisfaction with the service they receive at retail facilities. While the Postal Service's goal is 90 percent customer satisfaction, we found that more than 20 percent of its customers in FY 2013 responded to the POS survey that they have been treated "worse than other retailers" when visiting Postal Service retail counters. Dissatisfied customers exist, in part, because procedures for improving customer service are not functioning as intended. Although management communicates with sales associates periodically via service briefings known as "stand-up" talks and provides video instructions, there is no formal, in-class refresher customer service training. Further, sales associates' positions are based on seniority rather than suitability, as suggested by best practices. Also, follow-up customer service training is informal and there is no mandatory process for ensuring that managers regularly observe sales associates and provide feedback.
Although Retail Operations managers use several tools to improve customer service at the retail counter, they do not consistently conduct observations of their sales associates. Additionally, supervisors have not made decisions based on POS survey results, primarily due to the lack of communication of these results. We estimate the Postal Service could risk $288.5 million in FY 2015 by failing to improve customer experiences at postal retail counters.
Retail Customer Service
About 20 percent of postal customers who responded to the POS survey in FY 2013 indicated the Postal Service was "worse than other retailers" in its customer service at retail counters. This represents an 8.9 percent increase in negative feedback over FY 2012 survey results. In FY 2013, the negative customer response rate increase climbed from 11.8 percent during Quarter (Q) 2 to 27.7 percent in Q4 (see Figure 1).
Sales and Services Associate Selection and Training
Sales associates' positions are based on a seniority bidding process established in an agreement with the American Postal Workers Union8 rather than on customer service skills. Once an employee becomes a sales associate, resolving serious issues related to that employee, such as persistent discourteous behavior, can be difficult and time-consuming.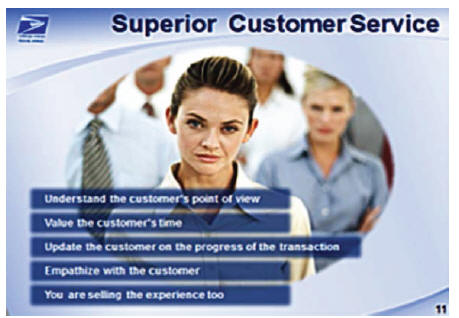 The agreement between the Postal Service and the union representing sales associates dictates that the Postal Service must select most sales associates through a seniority-based bidding process. Because the Postal Service is bound by this agreement, management has limited flexibility in staffing sales associate positions. However, it can build the desired customer service skills and behavior through continual, formal training.
We recommend the vice president, Retail and Customer Service Operations:
1. Provide continual, formal customer service refresher training to sales associates that focuses on improving customer service.
2. Create a mandatory process for observing, tracking, and providing managerial feedback concerning individual sales associates' customer service performance.
We recommend the vice president, Retail and Customer Service Operations, in cooperation with the vice president, Consumer and Industry Affairs:
3. Develop a plan to leverage Point-of-Service survey information to improve customer service at the retail counters.