Pittsburgh postmaster facing charges released on bond; employment status unclear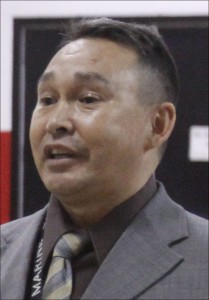 Pittsburgh's postmaster this morning declined to address charges filed against him by the Allegheny County district attorney's office that he intimidated and threatened four subordinates in an effort to cover up his alleged illegal opening of packages containing drugs and money.
Mr. Davis joined the US Postal Service in 1997 and worked as postmaster in Toledo before being transferred to Pittsburgh and appointed acting postmaster in February 2014. His position was made permanent in August 2014, but whether he remains employed was unclear today.
Mr. Davis was arraigned at 10:10 p.m. Tuesday by District Judge Elissa M. Lang on obstructing administration of law or other government function and four counts each of intimidation of witnesses or victims, criminal coercion and official oppression.
He was released on $10,000 unsecured bond on each of five cases filed against him. Judge Lang ordered Mr. Davis to have no contact with any witnesses or victims. A preliminary hearing is scheduled for Sept. 30.
While District Attorney Stephen A. Zappala Jr.'s office filed charges Tuesday against Mr. Davis and outlined in a detailed affidavit an alleged pattern of the postmaster terrorizing employees over the past year by threatening to kill or ruin them, it is unknown whether any federal charges will flow from an investigation that began with the U.S. Postal Service Office of Inspector General.
Federal authorities provided no clues Tuesday about whether they planned to pursue charges. An affidavit prepared by detectives with the district attorney's office alleged that Mr. Davis broke federal law and violated US Postal Service regulations by opening same-day delivery mail packages at various post offices, most prominently the one in East Liberty.
As postmaster, the affidavit said, Mr. Davis did not have any job duties that involved opening other people's mail.
Pittsburgh postmaster facing charges released on bond; employment status unclear
According to court documents (sanitized version of events):
On June 29, 2015, D. Sean Baer,an agent with the Special Inquiries Division, Office of Inspector General, presented this case to Detectives with the Allegheny County District Attorney's office. Baer had conducted an investigation into allegations that Davis was opening express mail packages at various post offices throughout Allegheny County.
In the summer of 2014, [Josh] Francis, USPS manager at the Coraopolis Post Office, was working in the East Liberty Post Office. This is when he first witnessed Davis opening packages. Davis continued opening packages on a weekly basis.
Davis advised Francis that if he was ever asked about Davis opening packages that he was to deny that he saw anything. He further advised him to watch for potential drug shipments from certain states, specifically Florida, California, New York, Texas, New Jersey, Colorado and Washington.
Francis recalled Davis opening a package that contained marijuana, heroin and cocaine. To the best of his recollection this occurred in late November 2014. Francis said that Davis referred to it as, "the mother load," Francis said that the package contained bags of coffee. These bags were then searched by Davis. The drugs were found inside of the bags of coffee.Francis was instructed by Davis to contact the Postal Inspectors.
Postal Inspector Justin Koebel arrived at the Post office. Francis said that he was asked how the package opened. Francis told Koebel to ask Davis that question. In an interview with Koebel, he told Detectives that he asked Davis this question and was told that the self-seal adhesive had opened in transit. Koebel relied on that information provided by Davis in drafting an affidavit of probable cause in support of a federal search and seizure warrant.
Following this incident, things between Francis and Davis became strained. Francis put in for a transfer out of the East Liberty Post Office and once Davis found out he confronted Francis. During this confrontation, Davis yelled, 'You're done. Your career is over:
Davis called Dwayne Mayo, a Transportation Supervisor, one evening on his personal cellular phone. Davis started the conversation off by complaining about another manager that wanted to be transferred. Davis then told Mayo, "I'm the most ruthless mother****** you'll ever meet. Don't cross me." Davis then advised Mayo not to tell anyone about this conversation because he would deny it. Mayo felt that he was being threatened because he witnessed Davis open the large box of drugs. Mayo contacted Parker and told her that he wanted to be transferred because he was afraid of what Davis said to him and that what Davis was doing (opening packages) was not right. He told Parker, "I didn't sign up for this.' Mayo added that he did not know how powerful Davis really was.