Pilot Test Starts 12-17-13
USPS "Testing" using UPS to Sort Outsides
On 12-11-13 I was informed by Carol Stream A/Plant Manager Colao that Carol Stream, South Suburban and the NDC will be sending their Non-Machineable Outside to UPS for sorting. Last night two UPS managers watched the Mailhandlers scanning and labeling the parcels.
Management put out the following Service Talk:
"Beginning tonight on Tow 3, December 11, 2013 the Carol Stream P&DC will be participating in a nation-wide six month pilot test involving Non-machine-able Outside parcels (NMO's). South Suburban, the NDC and Milwaukee will also be participating in this test which will be monitored by on-site Headquarter personnel.
NMO's, from our originating collection mail from the AO' s (coded RDC 11,12 & 13) will be isolated and sent to a new designated scanning station located at post T11 by the NDC Break-up Area. The NMO's will be manually scanned, a routing label will be printed and applied and the parcels will be bed-loaded onto a trailer at dock bay #28. These NMO's will be trucked to a UPS facility in Willow Springs IL 60480 who will sort the parcels (along with the consolidated parcels from South Suburban and the NDC) on their large parcel sorting machines. The NMO's will be sent out to the world and their destinations. On our destinating side – NMO's coming from the world to the larger 601 towns will come thru the UPS facility and go directly to the AO's – bypassing the plant. The smaller 601 towns will come to the plant from UPS to be dock transferred. UPS will be providing the "middle mi1e"processing for the identified NMO 's.
The USPS will continue to provide the first mile" collection and acceptance and the "last mile" delivery through our delivery units. Bottom line: Yes this is an outsourcing test to see if it is more cost effective to have UPS process this type of mail for us than for us to do it ourselves.
Process Operations – Service Talk – Pilot Test For Handling Irregular and Non-Machineable Outside Parcels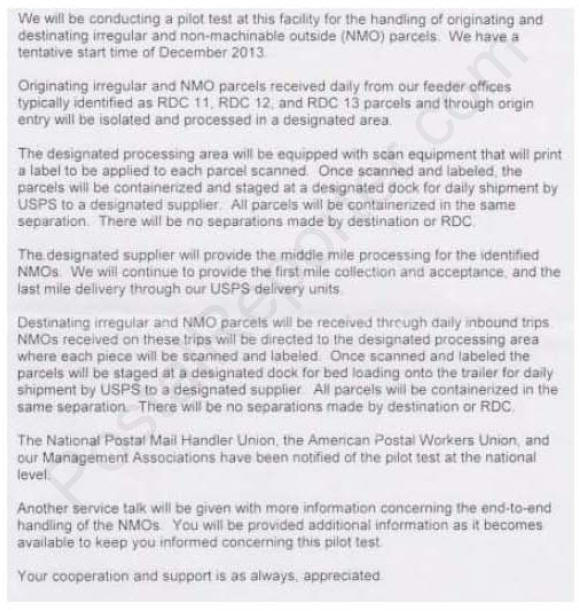 The NPMHU and APWU have been notified on a national and local level "
Will Affect Palatine…
An email from Palatine Plant Mgr. Prahl states,
"This really will only impact the T-3 upper dock NMO operation and the T-1 IPP operation. This pilot test only includes parcel post NMO's, not priority. Once we go live 12-17. NMO's will be lumped together in one container. However, we must ensure that only NMO's go into that container. A parcel post NMO dimension exceeds 27 x 17″ x 17" or 25 pounds. We will dispatch the NMO container to the NDC. NMO's will be scanned and labeled by the NDC and CS and tendered to UPS. UPS will sort and dispatch these as well as all destinating NMO's directly to delivery. This volume will no longer be sent to us from the NDC for sortation on the IPP belt. However, we will be receiving these NMO's on Saturday mornings. UPS will drop them of on our dock by 0200. The first Saturday we will see this drop off of NMO's from UPS is 12-21. This volume will be processed for Sat. delivery. We need to get en route scans on these parcels as we work them on the IPP belt.'
The reason given for subcontracting this work to UPS is because they have the machines to sort the Outside mail but USPS has a Universal Sorter for larger parcels at the ISC and there is talk of getting one at Busse. Headquarters wants to give to UPS to bypass manual distribution which is labor-intensive and expensive. It looks like more USPS subcontracting of work like the opening of USPS Retail Services at 81 Staples stores to be staffed by non-postal employees.
If this test is successful I'm sure USPS Headquarters will be happy to give this work to UPS.
SOURCE: APWU Northwest Illinois Local #7140, President Jackie Engelhart