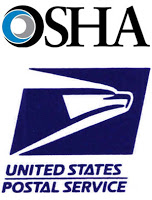 On September 10, 2014, U.S. Occupational Safety and Health Review Commission (OSHRC) Administrative Law Judge Peggy Ball upheld the willful citation issued to the U.S. Postal Service Truman Station in Independence, Mo., by OSHA following the July 24 2012 death of a letter carrier with 28-years of service. The letter carrier developed heat-related illness symptoms, collapsed while working his route and was taken to the hospital where he died as a result of his exposure to excessive heat. OSHA found USPS at fault for "willful violation of the general duty clause by failing to adequately protect its employees from the hazards associated with working in extreme heat" and assessed a penalty of $70,000.
In a statement from OSHA: "The court found that the message to employees from top management down to supervisors was clear –heat is not an excuse for poor performance. This culture must change," said Barbara Theriot, OSHA's area director in Kansas City. "If the postal service had trained workers in recognizing the symptoms of heat stroke, and taken precautions to ensure workers had access to water, rest and shade, this unfortunate incident may have been avoided. This ruling underscores the need for employers to take proactive steps to keep workers safe in extreme heat."
The willful violation addressed the hazard of multiple employees who were required to work during periods when excessive heat advisories and warnings were issued by the National Weather Service. An OSHA investigation found that the postal service did not have procedures in place to address worker concerns during times of excessive heat.
"USPS had in it's files materials that said if a person is experiencing signs of heat induced illness certain steps should be taken, including the need to "act immediately," the need to move the victim to a cool shaded area and give cool water, the admonition, "Don't leave the person alone," and the need to 'treat all heat disorders seriously." The materials also acknowledge that "sometimes people don't notice their own heat stress symptoms. Their survival depends on co-worker's ability to recognize symptoms and seek medical help." One document acknowledged that "it's essential that workers-and their supervisors-understand the risks and how to protect against them."
In the decision Administrative Judge Ball writes:
i. "Heat is No Excuse"
From the very top of the management chain down to the floor supervisor, the message was clear: heat is not an excuse for performance issues. Mr. Behrends, the acting Officer-In- Charge at the time of the incident involving J.W. and other letter carriers, gave sworn testimony that Gail Hendrix and Steve Erbland told him and other managers that heat does not matter and that employees should be able to perform within their expected delivery parameters regardless of the weather. (Tr. 245-47). This is further supported by the series of emails that were sent between the various managers in the Mid-America District. That message was relayed to lower-level supervisors, such as Mr. Harvey and Mr. Dyer, who, in turn, conveyed the same message to the letter carriers.
NALC after OSHRC decision: "It is fully anticipated that the Postal Service will appeal this decision.  Not because the facts are wrong.  Not because judgement was wrong. The Postal Service will appeal this decision because it refuses to accept responsibility for the actions of its managers that directly led to the death of John Watzlawick and the injury of three other letter carriers."
Well, NALC called it right,
On December 22, 2014, USPS filed a "Petition for Review" of a final order of OSHRC. USPS is requesting that the US Court of Appeals for the 8th Circuit review and set aside, in part, directing implementation of OSHRC's final order dated October 24, 2014.  Although USPS stipulated that it recognizes the hazard heat poses to letter carriers–USPS disputes  OSHA's "willful violation" assessment.
The case will be continued next month.
As noted above, there were other letter carriers:
As per office policy, a second letter carrier called into the Truman Station around 1:00 p.m. and indicated to Supervisor that the amount of work in his route was going to take him past the 5:30 p.m. cutoff time. This was a concern because other carriers had been told that they would be disciplined for coming in past the 5:30 p.m. cut-off time, at which point USPS was obligated to pay penalty (or double) overtime. When the letter carrier called in around 2:00 p.m., he indicated that he was still behind schedule, that he was in pain and that his stomach was upset. In response, the letter carrier testified that the Supervisor said, "[Y]ou must be laying down on me …. You must be slumped over the wheel to be going that slow."Around 5:00 p.m., another letter carrier was sent out to help him. After he finished his shift and returned home, the letter carrier still felt ill, so his wife made him go to the emergency room. After running a number of tests, the hospital determined that he had heat distress and kept him overnight for observation.
On July 24, 2012, the day that John Watzlawick passed away, a third letter carrier also suffered from heat induced illness.  When the letter carrier returned to the Truman Station, he was not feeling well. Initially, the Supervisor was going to send him back out to complete John Watzlawick's route, but he reconsidered after looking at the letter carrier. According to the letter carrier, the Station Manager then said, ·'No, the letter carrier is going back out. Give him a bottle of water." The letter carrier went back out to complete the route.
On July 19, 2012, five days before John Watzlawick's death, a fourth letter carrier had to be taken to the hospital due to heat-related illness. The letter carrier was directed to go to the hospital immediately, whereupon he was diagnosed with acute renal failure related to heat.
In addition, a day before the fourth letter carrier incident, a fifth letter carrier at the Truman Station, reported feeling ill due to heat while working at the station. She was taken away in an ambulance.
Each of the letter carriers who were called to testify in the OSHRC hearing stated that they were given the message that heat was not an excuse for a delay in delivering the mail.