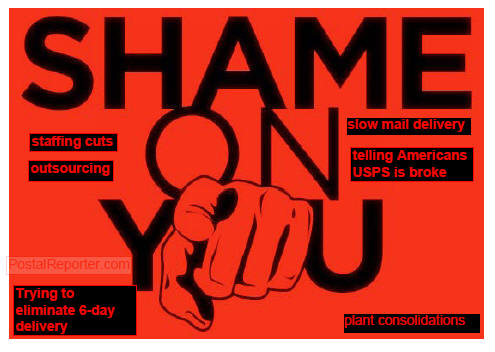 SHAME ON YOU!
By Paul Gereffi
Fats Domino might have summed up the current plight of the Postal Service best when he sang "Ain't That a Shame" back in 1955. Coincidentally, that's the year I started in the Post Office (just kidding!) Just seems like it.
We have a great company that is now back on the upswing despite everything upper management could do to ruin us. According to the latest figures, the USPS set a record for the number of parcels delivered this Christmas season, including a record 28.2 million the Monday before Christmas, the most ever in our 237-year history. That's the good part. The shame is that it was accomplished in the midst of some of the worst management we've ever seen, going back to Ben Franklin those 237 years ago. (Hear ye, hear ye, all carriers must make sure their horses have been fed and are ready to hit the path! Be back before the street lamps are lit.)
Shame on you, Mr. Postmaster General, for doing everything you can to convince Congress and the media that we are a company on the verge of going broke, with an overpaid workforce and a "failing business model," as you put it. Shame on you for trying to eliminate Saturday delivery, then agreeing to deliver parcels on Sunday, sending a mixed message to the public and our mailers. Shame on you for telling us on employee videos what a great job we're doing, then trashing us to everyone else behind our backs.
You were so wrong, for so often, that you felt compelled to retire. Shame on you IN ADVANCE for going to work for our competitors, which I'm sure you will do as soon as you retire, as those before you have done.
Shame on upper management for demonstrating total incompetence and lack of planning for failing to get the mail to the stations in a reasonable time and changing to start times of 9 am or later to cover for their buffoonery. The result? Delivery of mail AFTER DARK on a REGULAR BASIS. I can only imagine the managers meeting:
"Staff, here's the challenge. Let's figure out a way to get the mail to stations early enough to get our customers the service they deserve and speed up the mail. This will involve creating schedules for truck drivers, improving the ways and times we pick up collection boxes, figuring out the best locations for mail processing, and making sure we have enough employees on hand to handle the mail volume.

We need to develop a sound strategy, implement proper planning, and use some real creative thinking.

Any suggestions?"

"Yes, how about we forget all that and just order donuts?'

"Well played; meeting adjourned!"
Congrats on our latest commercials (featuring genuine letter carriers, by the way) touting our parcel pick-up service. Carriers will pick up parcels at the home or business, saving our customers a trip to the Post Office. However, at some stations, supervisors refuse to allow time for returning to a business or residence for a pick-up, or pretend not to know about this service, pressuring the carrier to be off the street at a certain time, parcel pickup be damned.
Shame on them!
Shame on us for not having enough clerks to provide a dedicated person on the dock to manage outgoing mail in the afternoon. Often, returning carriers with pick-ups have to jockey for space with customers who bring their outgoing parcels and other mailings to the dock. If the clerk is busy inside or doing something else, it's generally mass confusion and an accident waiting to happen. Also, what happened to security of the mail?
Shame on us for allowing our collection boxes to deteriorate to the point that many of them are faded memories of their former selves. On running a holiday collection, I noticed many of the collection boxes are rusted through on the top, allowing rain to leak inside. How to explain that to the customers?
Shame on whoever made the decision to take the tires off the front of my truck, and replace them with bald ones. How did this happen? Simple, some other truck was tagged for bald tires and they took the "good ones" off mine and put them on the other truck, and put the bald ones on my truck, taking "tire rotation" to a new and incompetent level. I know the squeaky wheel gets the grease, but that's ridiculous, and dangerous.
Shame on whoever has allowed our "facilities" to deteriorate to the point of embarrassment. Last I looked (and trust me, I try not to) we are down to two toilets out of commission and a urinal that has been removed. I've seen bathrooms in better condition in a bus station. And double shame on my fellow carriers that seem to enjoy stuffing paper towels in the toilet to clog them.
Shame on those managers who come to our station to examine "the product" (that's their new jargon for the mail), huddle in small groups, then do nothing about it. The DPS is a mess, the parcels still come late, and there is usually a crab cage or two that belongs to another station. We even had one idiot who would walk around with two different cell phones, one on each ear, acting as if he was doing something about it and barking orders into the phones. ("I distinctly told you, one dozen powdered donuts!") The result of these meetings of the minds? You guessed it. NOTHING!
Our only "product" should be our service to our customers and getting the mail to them as quickly as possible. Instead, we've become a company where everything is internalized. The only thing that matters to managers is meeting the numbers and the approval of the other managers on conference calls.
Most of all, shame on them for investing billions of dollars in automation, only to see the mail slowed to a crawl and service deteriorate. While our parcel business is up, everything else is adversely affected by automation. It took them years to admit that the flat sorting machines didn't work. When are they going to admit that automation has slowed the mail down so much that we can't get it all delivered before nightfall? They won't. Instead, starting the second week of January, we changed our service standards so that today's mail will actually be delivered tomorrow. Probably after dark.
Ain't that a shame!
About the author
Paul Gereffi, a frequent contributor to PostalReporter.com, started his career with USPS in 1974. Gereffi is a member of NALC Branch #2550 in Fort Lauderdale, FL. Several years ago,  Gereffi was named Eastern Region Hero for helping subdue a disgruntled man who had assaulted his boss with a steak knife. Driving along his route in Ft. Lauderdale, Gereffi noticed a man with a shirt covered in blood behind a building. After calling 911, he and another witness held the attacker until police arrived.