The United States Postal Service will issue its set of 20 Pets forever stamps on Aug. 2, with a first-day ceremony in Las Vegas, Nev.
The 1 p.m. event will take place in South Seas Ballroom F at Mandalay Bay Resort, 3950 S. Las Vegas Blvd., in association with SuperZoo, a national trade show for pet retailers. Read more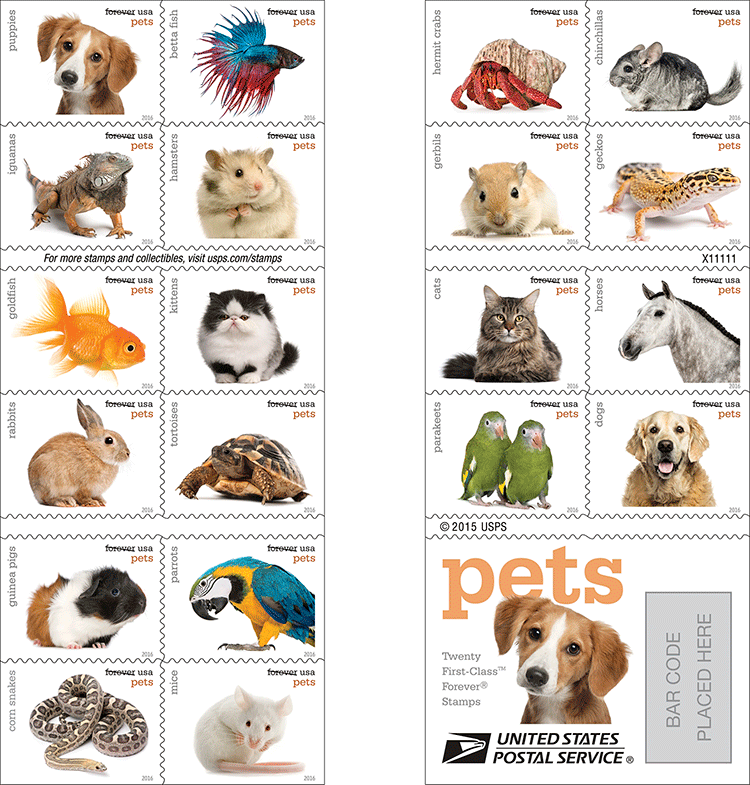 Pets
To celebrate America's love for pets, the Postal Service will issue a booklet of 20 Forever stamps featuring photographs of 20 pets. Each photograph represents an animal we love from these groups: puppies, betta fish, iguanas, hamsters, goldfish, parrots, guinea pigs, tortoises, rabbits, kittens, corn snakes, mice, hermit crabs, chinchillas, gerbils, dogs, parakeets, horses, cats, and geckos. The photographs were taken by Eric Isselée and Derry Noyes was the art director.