The USPS FY 2015 annual report released on November 13, 2015 contained several interesting issues which has not been covered by mainstream media. One issue was the Postal Executive pay raises, bonuses and perk(s) that PostalReporter.com covered a few days ago. Another issue is the number of career postal employees.
The size of the USPS workforce has declined in the past 15 years (FY1999-2015). The number of employees in  FY1995 stood at 874,972. By 1999 the USPS's workforce increased to 905,766 employees –by FY2014 the numbers were down to  617,877 -by FY2015 622,000 a difference of 283,766 employees. Between FY2010 and FY2014, 55,473 career employees accepted a separation incentive to retire or resign early. On January 9, 2015, USPS instituted a reduction in force for 249 postmasters who did not accept a separation incentive offered in 2014.
USPS has increased the number of non-career employees –particularly since FY2011. Between FY2011and FY2014, the number of non-career employees increased by 46.1%, from 88,699 to 129,577 employees. The influx in non-career employees since FY2011 is primarily attributable to the establishment of three new non-career positions: postal support employees, city carrier assistants, and mail handler assistants. Labor union contracts governing these positions, which went into effect in 2011 and 2013, effectively raised the total number of non-career employees that can comprise the USPS workforce. Career employees, however, continued to comprise the majority of the total workforce in FY2014 (79%).

Overall, the only groups to show an increase in FY 2015: Rural Carriers, Clerks and Supervisors .
Headquarters – "persons who work in a variety of capacities at the two central offices of the U.S. Postal Service, which are located in Washington, DC, and Rosslyn, VA." The numbers stood at 1,825 in the CRS report covering  FY 1995 but at the end of FY 2015 it is now 2,916.
Clerks show the biggest decrease over 20 years. In the CRS report for FY 1995 clerk/nurse numbers totaled 273,714. At the end of FY 2015 clerks/nurses have dwindled to 125,609— a decrease of over 50%.
City carriers show 239,877 in FY 1995 but now the numbers stand at 164,378.
Supervisors show a high of 34,732 in FY 1995 but at the end of FY 2015 numbers have dropped to 23,754.
Rural carriers Full-Time show a high of 46,113 in FY 1995 and now stand at 67,044 at the end of FY 2015.
Postmasters went from a high of 26,564 in FY 1995 to 15,244 as of FY 2015.
A few observations :
Although emphasis has been placed on the entire USPS workforce– the career workforce is the numbers to watch.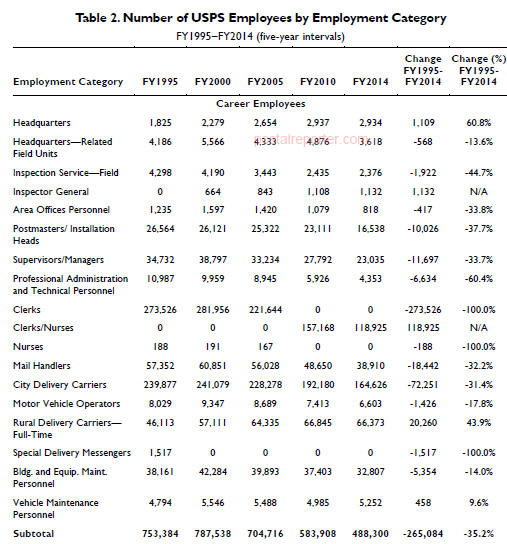 In 1965 the career workforce stood at 447,394.  Over the next 30+ years the workforce numbers fluctuated until 1999 when the totals peaked at 797,795.   From FY 1999 the career workforce started a steady decline ending in FY 2014 with 488,300–a decrease of 309,495 employees. But  in FY 2015 the numbers slightly increased to 491,863. USPS is approximately 45,000 employees away from reaching the career workforce numbers of 50 years ago. USPS in previous reports stated the goal was to reach 400,000 employees by 2017 which is near the numbers of nearly 60 years ago .
Between FY2007 and FY2014 (and after the PAEA was passed in 2006), 258, 392 career employees separated from USPS –202,919 employees left the rolls without an incentive and 55,473 left with an incentive during the 7-year period. In 2013 41,823 career employees separated from USPS–23,832 employees with an incentive.
Just a thought to ponder: The disappearing career workforce means middle-class jobs will be gone and replaced with a lower paid workforce. Over 202,000 employees left USPS without an incentive in 7 years. The question is why? It would be interesting to find out the true breakdown of why employees left the rolls.
2015, 2014, 2013 Totals
Career employees 492,000 488,000 491,000
Non-career employees 130,000 130,000 127,000
Total employees 622,000 618,000 618,000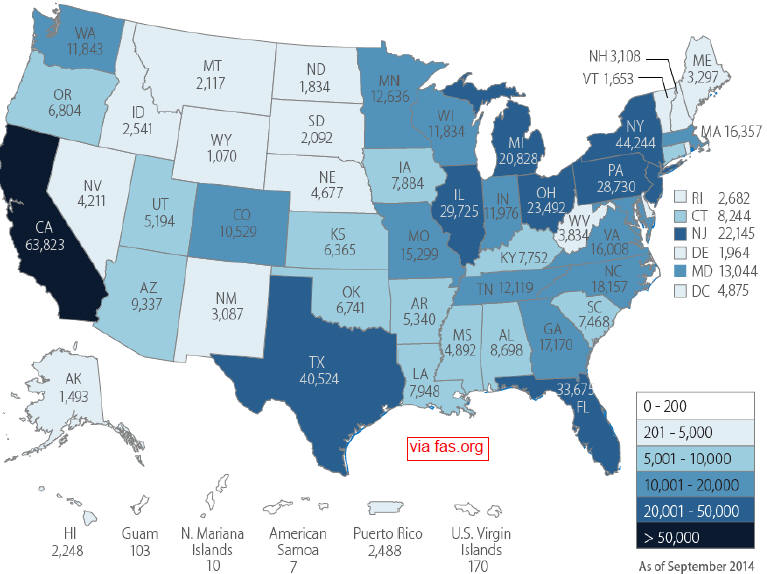 To be continued……