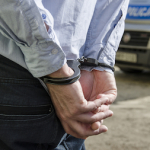 Updated April 2, 2015 MILTON, W.Va. (WSAZ) — An on-duty FedEx driver was arrested Wednesday on DUI charges after a crash in Milton that sent another driver to the hospital, according to information from Cabell County Magistrate Court.
Timothy Scott Smith II, 26, of Clendenin, West Virginia, is charged with DUI with injury, criminal complaints show.
The accident was reported just after 4 p.m. Wednesday in the 200 block of East Main Street.
Smith was driving a white FedEx cargo van at the time. Milton Police say he smelled of alcohol, and officers found a nearly empty bottle of vodka near the van. Read more