7/31/17 BINGHAMTON, N.Y. – A former U.S. Postal Employee has been convicted by a federal jury in Binghamton on 14 charges related to Fraud, Identity Theft, and the Destruction of Mail.
Between July 2014 and April 2015, 27-year-old Melissa Elliott of Binghamton opened several credit card accounts by using the social security number and date of birth of another woman that she knew. After opening the accounts, Elliott used the cards to make fraudulent purchases and pay personal debts over $57,000.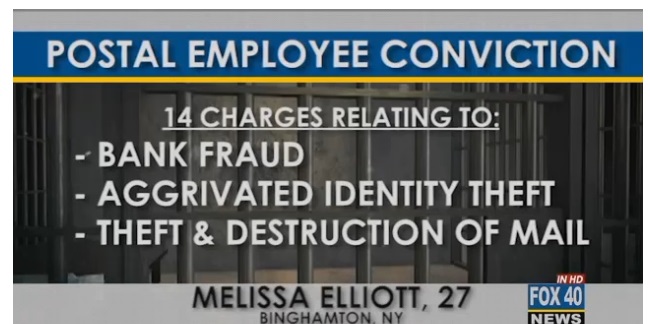 The jury also found her guilty of Theft of Mail and Destruction of Mail after she stole postal items while she worked as a clerk at the Cortland postal facility in December 2015 and January 2016.
FOX 40 WICZ TV – News, Sports, Weather, Contests & More
Read more at Fox 40 Binghamton