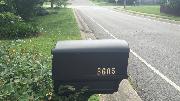 NASHVILLE, Tenn. — More people in Woodbine are coming forward with postal problems.
Last month, we told you how some neighbors are not getting their deliveries. Now neighbors say they're having to do deliveries themselves.
"There are government employees, I'm paying for this," South Nashville resident Paul Jenson said.
Those who lives in this South Nashville neighborhood says he's having to work to get their mail where it belongs.
"I get mail from a couple blocks away," Bob Lyons said. "I walk down there and deliver it, yes."
"For instance we will get 100 digits off. So ours is 39 and will get 38's in the mail and we just trade it out because we know those neighbors," Amdanda Mgbodille said.
"I have balance issues which makes it very difficult to walk," said Jenson.
For Jenson, who uses a wheelchair to get around. He says the he doesn't want to have to climb the hill on his street to get his deliveries.
"I mean this is not acceptable. How can this happen?" asked Jenson. "How hard can it be to put the right mail in the right box?"
Neighbors say the mail mix-up has been going on for years when their regular mailman is not around. Read more
via South Nashville neighbors say they deliver each other's mail due to constant mix-up