CHICAGO (WLS) –Ambulances rushed 13 employees at a River North post office to the hospital with heat-related illness Saturday morning, according to the Chicago Fire Department
According to witnesses, temperatures inside the facility at Ohio and Dearborn were near 100 degrees and they said it has been that way since the middle of the week. Another 23 workers were treated on the scene.
People were working at the facility since 5 a.m. The first one in the ambulance was a supervisor who was throwing up because of the heat. The conditions of those transported are not known.
"You go through the door…you could feel like an oven on and you can't open windows up there so everybody just started getting dizzy and throwing up, getting sick," said postal worker Aileen Harris.
"We need to build a brand-new post office with a brand-new air conditioner system and a brand-new heating system," said postal worker Kenneth Norman.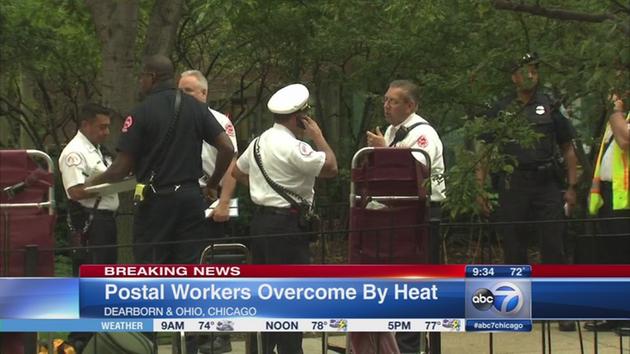 13 hospitalized for heat-related illness at River North post office