Rural carrier distributes fliers to residents asking them to inflate their mail volume during count week
HIGHLANDS RANCH, CO – The USPS is apologizing to a group of its customers in Highlands Ranch after a postal carrier left fliers in homeowner's mailboxes, asking for them to artificially increase their mail volume so she could earn higher compensation.
According to the United States Postal Service, the flier was distributed to homeowners living along "Route 16" in the Highlands Ranch Golf Course community, which is classified as a rural route.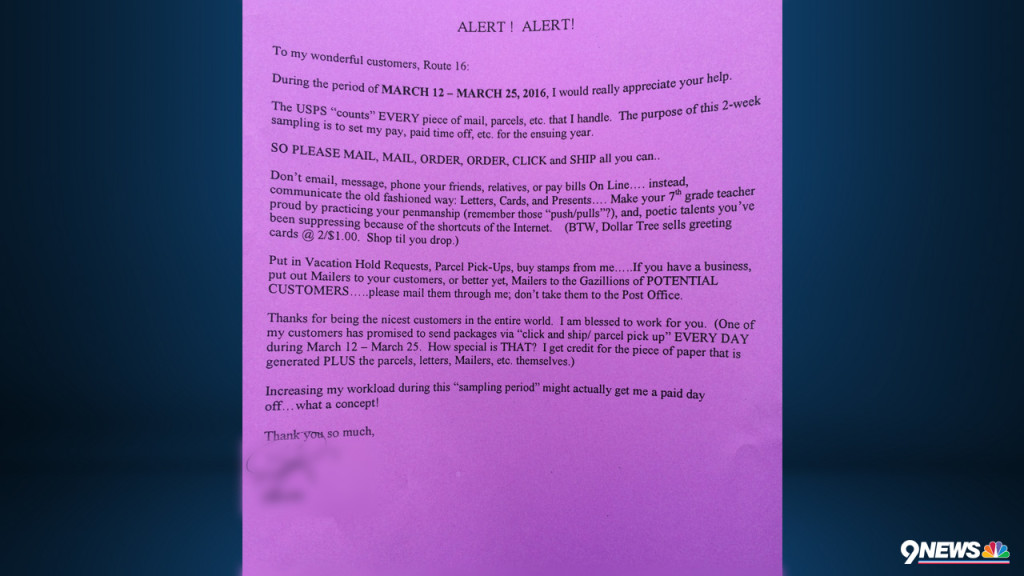 A spokesperson for the USPS told 9NEWS that postal carriers assigned to rural routes are evaluated on a scheduled basis to assess route volume, distance, and other factors to determine workload and the level of compensation.
note:

In 2016, a National Mail Count will be conducted for twelve (12) working days beginning Saturday, March 12, 2016 and ending Friday, March 25, 2016, for all routes except those routes which both the regular carrier and management agree in writing not to count. source: NRLCA
USPS apologizes after carrier leaves letter asking residents to "ship all you can