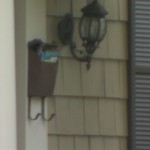 Postal Service investigates missing mail in Myers Park
CHARLOTTE, N.C. —The U.S. Postal Service confirmed they are investigating the disappearance of mail intended for residents of some streets in Myers Park.
The problem came to light in late March when residents of Queens Road West and Westfield Road noticed that some mail they were expecting never showed up.
It happened while the carrier who has worked that route for 25 years, Danny Hinson, was on vacation.
Residents let him know about the missing mail when he returned.
"The first one, like I said, you go, 'Maybe they didn't get any mail?' But when a couple of people tell you, you get suspicious," Hinson said Thursday.
Hinson took the complaints back to the station off Independence Boulevard where he picks up his mail and sorts it for some of those residents of Myers Park contacted the office of Rep. Robert Pittenger.
Becker contacted the Postal Service in Charlotte and told them that he had learned that the carrier who replaced Hinson may have dumped mail in a dumpster to lighten his load.
But he was surprised that the USPS hasn't contacted residents in the 10 days since to let them know that they might be missing some mail. read more