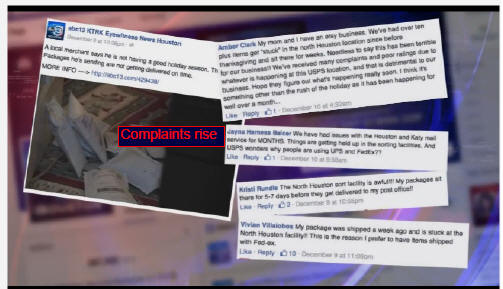 HOUSTON (KTRK) –Earlier this week we first told you about a customer from Bryan who says his packages are not being delivered on time. Since then we have heard from several more people who say the exact same thing is happening with their packages.
When our investigation into Post Office package delays aired on Tuesday our social media accounts lit up with people claiming their packages are making it to Houston Processing Center and then the trouble starts.
We told you earlier this week about Mitchell Robinson and his problem with delayed deliveries with United States Postal Service.
"I looked into the tracking some had showed departed Bryan, some had showed arrived Houston, some had showed departed Houston and they had been sitting there 3 to 5 days already," he said.
After that story aired, many of you took to our Facebook and Twitter accounts to let us know Robinson was not alone.
USPS investigating cause of stalled deliveries as complaints rise