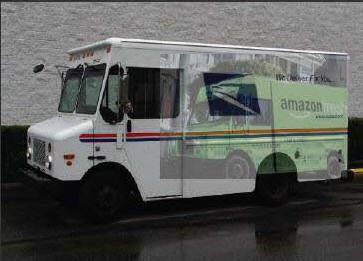 Amazon has come under fire for being selective on which areas are eligible for its 'Prime Free Same-Day delivery'. In six major same-day delivery cities, Amazon's Prime Free Same-Day delivery' area excludes predominantly black ZIP codes to varying degrees, according to a Bloomberg analysis.
In Atlanta, Chicago, Dallas, and Washington, cities still struggling to overcome generations of racial segregation and economic inequality, black citizens are about half as likely to live in neighborhoods with access to Amazon same-day delivery as white residents.
Boston Mayor Martin J Walsh, Massachusetts Senator Ed Markey, Bronx Burough President Ruben Diaz Jr., New York State Assemblyman Jeff Dinowitz and U.S. Congressman Bobby Rush all called upon Amazon to expand its service to include zip codes in the 27 cities where where African Americans live. Amazon has agreed to expand the delivery area for the previously excluded areas served by the representatives above.
The questions now:  Can USPS handle the unexpected expansion of package deliveries?  Will a possible investigation by the Federal Trade Commission ensnare USPS since it is a partner of Amazon's Prime Free Delivery Service ? Was USPS aware of Amazon's alleged exclusionary delivery practice based on zip codes? Should USPS have known about the zip codes Amazon was selecting as 'eligible' for its Prime Free Delivery service? Why has USPS (and/or mainstream media) been so quiet about this situation when it will more than likely affect its bottom line in finances? So many questions with so little information. note: If I missed any stories from postal-related websites, feel free to let me know.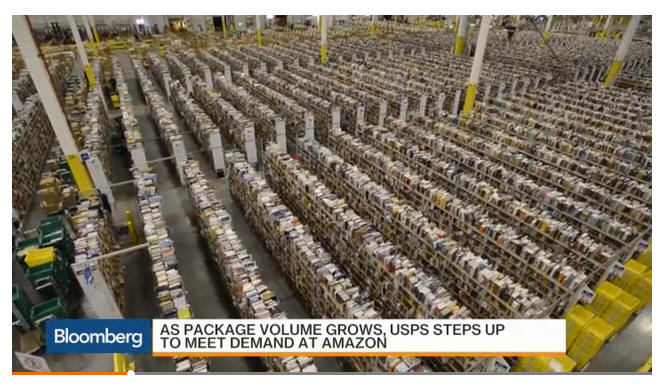 Last year, according to media reports, Amazon mailed out over 500 million packages. USPS handled around 40% of the package deliveries, UPS 20-25% and FedEx -15-20%.
USPS utilizes City Carrier Assistants (CCAS) and other non-career personnel to deliver Amazon packages on Sundays. But USPS suffers from a high turnover rate of non-career employees. So how will USPS keep up with this unexpected expansion in package delivery?
The problem according to an investigation by Bloomberg
As Amazon has expanded rapidly to become "the everything store," it's offered the promise of an egalitarian shopping experience. On Amazon and other online retailers, a black customer isn't viewed with suspicion, much less followed around by store security. Most of Amazon's services are available to almost every address in the U.S. "We don't know what you look like when you come into our store, which is vastly different than physical retail," says Craig Berman, Amazon's vice president for global communications. "We are ridiculously prideful about that. We offer every customer the same price. It doesn't matter where you live."
Yet as Amazon rolls out its upgrade to the Prime service, Prime Free Same-Day Delivery, that promise is proving harder to deliver on. The ambitious goal of Prime Free Same-Day is to eliminate one of the last advantages local retailers have over the e-commerce giant: instant gratification. In cities where the service is available, Amazon offers Prime members same-day delivery of more than a million products for no extra fee on orders over $35. Eleven months after it started, the service includes 27 metropolitan areas. In most of them, it provides broad coverage within the city limits. Take Amazon's home town of Seattle, where every ZIP code within the city limits is eligible for same-day delivery and coverage extends well into the surrounding suburbs.
The disparity in two other big cities is significant, too. In New York City, same-day delivery is available throughout Manhattan, Staten Island, and Brooklyn, but not in the Bronx and some majority-black neighborhoods in Queens. In some cities, Amazon same-day delivery extends many miles into the surrounding suburbs but isn't available in some ZIP codes within the city limits.
According to the Verge – Amazon is working to address racial disparity in same-day delivery service :
Amazon has pledged to expand its same-day service to underserved people in the 27 cities in which it currently operates, and not to launch the service anywhere else without being able to cover every zip code, according to a letter obtained by Bloomberg reports. The move follows a Bloomberg investigation in April that found the company's same-day delivery service was biased in favor of white customers in some regions; for example, the report found that black residents in Atlanta, Chicago, Dallas, and Washington were "about half as likely" to be eligible for same-day delivery as white residents.

Amazon is working to expand its delivery footprint, which will rectify the disparity in cities that are not fully covered. "Very shortly, we will be expanding Prime Same Day service to every zip code of the 27 cities where Prime Same Day delivery is currently launched," the company said in a statement given to Bloomberg by the Congressional Black Caucus. "We will further not launch the service in any new regions, until we are able to secure a carrier for every zip code." Amazon says it is "still figuring out the details," but that complete coverage should be achieved "shortly." Read more
U.S. Representative Bobby L. Rush (D-Ill.) sent a letter to Amazon.com CEO Jeff Bezos to address a recent article published in Bloomberg revealing that Amazon.com's Prime Free Same-Day Delivery is unavailable to residents in primarily African-American ZIP codes.
"Unfortunately, though, the situation with Amazon.com is not a unique experience for people of color," said Rush. "Today, in 2016, too many Americans still are denied services and access to goods based off the color of their skin.  Amazon.com's assertions of impartiality and a numbers-based approach to the availability of its Prime Free Same-Day Delivery has been disparate and, seemingly, discriminatory."

Rush also sent a second letter to the Federal Trade Commission seeking an investigation into Amazon.com's delivery practices. The Bloomberg article exposed that in addition to Chicago, Bloomberg found similar situations occurring in five other cities — Atlanta, Boston, Dallas, New York, and Washington, D.C.
More information will be posted as it becomes available…