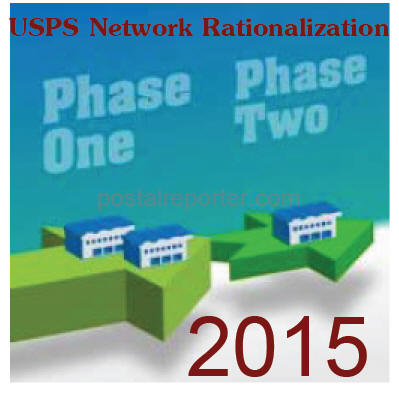 USPS Network Rationalization Consolidations List Updated 12/25/2015
According to APWU: From 2006 through 2013, the USPS consolidated over 256 mail processing centers nationwide. Another 10 facilities were stripped of their mail processing in April and May of 2015. We used to have 673 mail processing facilities – we have lost over 39 percent of our facilities.
Last year,USPS announced major changes to the Phase II-2015 USPS Network Rationalization Consolidation schedule..  USPS suspended all remaining closures and consolidations from a scheduled move date in 2015 to "To Be Determined." Some Postal Employees were told USPS suspended plant consolidation/closures until April 2016.
After USPS consolidated and/or closed mail processing facilities service standards were not met in the second quarter of fiscal year 2015 (January through March), despite the fact that the standards were lowered. "During this time, management moved mail and employees to different shifts in order to handle the consolidations/closures and the degraded service standards."
Service performance results for April and May continued to show that USPS was unable to meet the degraded service standards, especially where mail processing operations were shut down and consolidated with another facility.
According to SavethePostOffice: The Postal Service released its on-time performance reports for the fourth quarter of the fiscal year (July 1 – Sept. 30, 2015).
Compared to the third quarter, on-time performance for most types of mail has improved, but performance remains significantly down from the same period last year (SPLY) — before the changes in service standards and operations at processing plants went into effect on January 5, 2015.

For example, during the third quarter of FY 2015, single-piece First Class mail (SPFC) had an on-time performance record of 78.1 percent for 3-to-5 day mail.  During the fourth quarter, 81.9 percent of this mail was delivered on time, an improvement of almost 5 percent.

But compared to the same period last year, on-time performance for single-piece First Class mail with a 3-to-5 day delivery standard declined from 91.3 percent to 81.9 percent, a drop of 9.4 percent.  That's also well short of the target of 95.3 percent.
Will USPS resume Network Consolidations and closures in light of  unstable results in service performance ? Well, we will soon find out.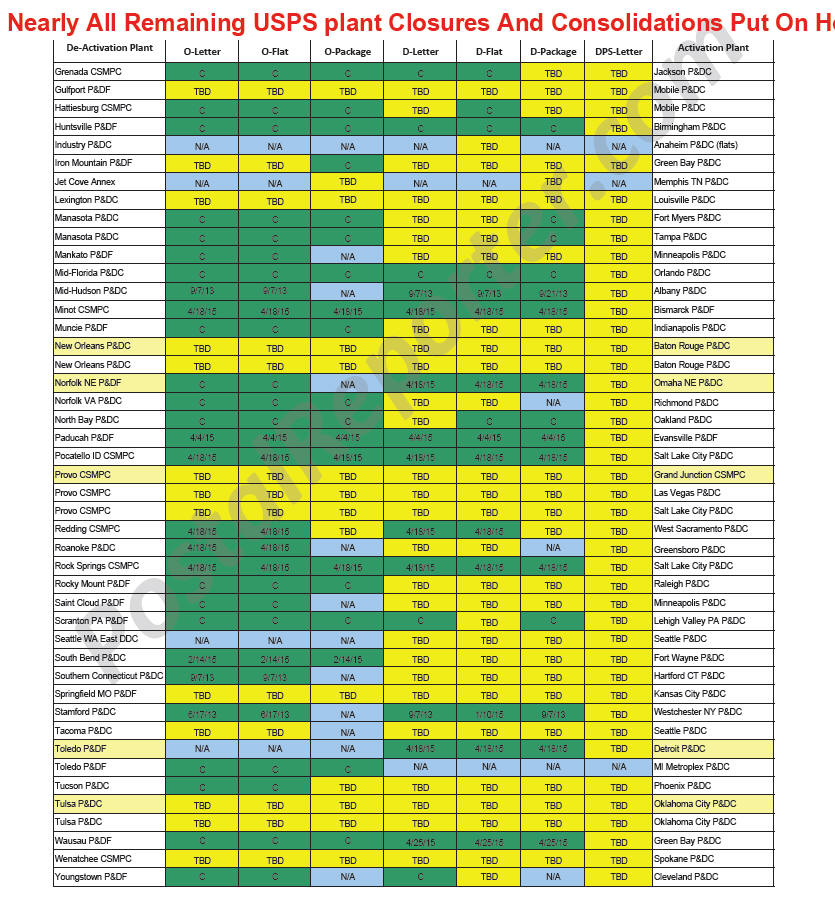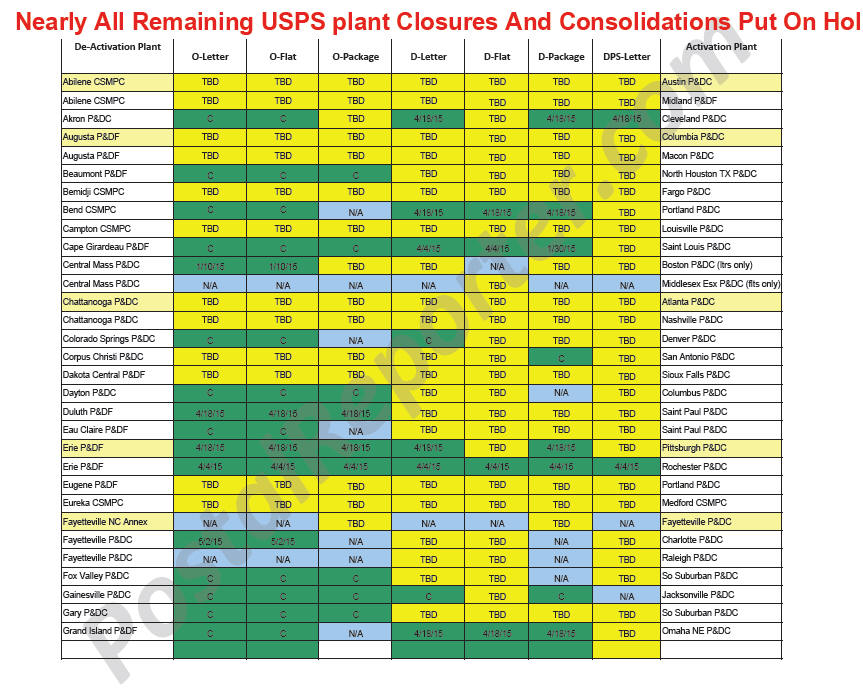 USPS Network Rationalization Consolidations List Updated 12/25/2015 (pdf)